AT PREMIER SUBARU, WE CARE ABOUT THE COMMUNITIES IN WHICH WE SERVE
Premier Subaru Middlebury has a history of giving back to the communities in which we serve. Since 2000, the ownership of Premier Subaru Middlebury  has had a strong commitment to "give back" to the community and ensure that we "pay it forward".  This financial commitment has ranked us among the highest in charitable contributions in our peer group.  We are proud of this commitment and will continue to do what we can to support the communities in which we serve.
---
Connecticut's Premier Subaru in Middlebury Spends Veteran's Day Sharing the Love with a Local U.S. Military Veteran.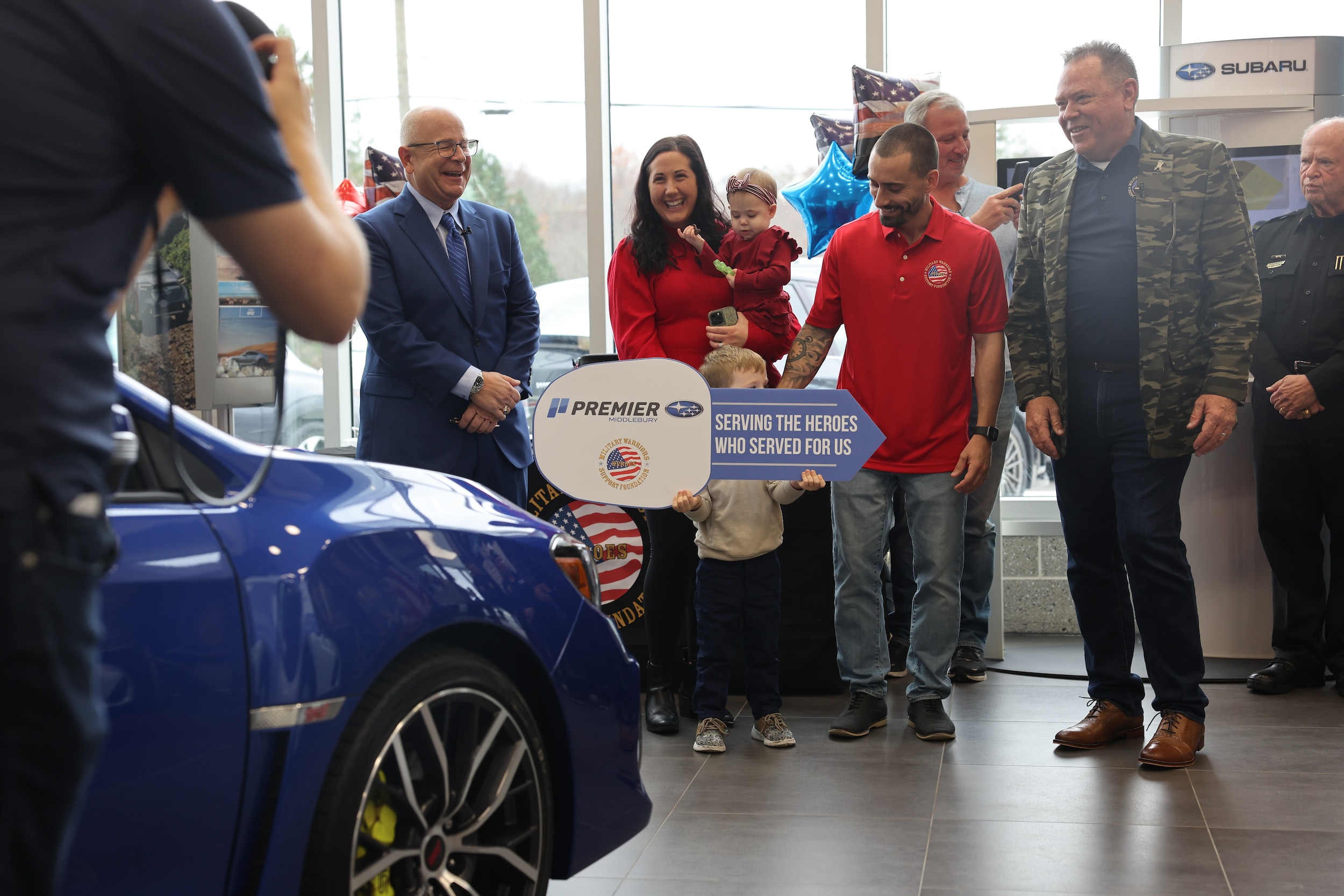 Premier Subaru in Middlebury Connecticut spent this past Veteran's Day showing a local military veteran how truly appreciated they are for their commitment and sacrifice to the U.S. In partnership with the Military Warriors Support Foundation (MWSF), the dealership presented a brand new 2023 Subaru Forester to United States Marine Corps Corporal Roger Rua and his family.
Roger was selected to receive a Subaru after applying to MWSF's Transportation4Heroes program, which includes a rigorous vetting process to ensure selected veterans and/or their families are the most deserving recipients. MWSF then worked directly with Premier Auto Group to present the payment-free vehicle in the celebration on Veteran's Day.
Roger Rua was born and raised in Connecticut and joined the military in January 2010 after feeling the call of duty to serve and protect his country. He was stationed in Okinawa, Japan and later deployed to Afghanistan in 2011, where he was wounded during combat and received a Purple Heart for injuries sustained. Roger was honored with several additional awards for his service, including the Combat Action Ribbon, Afghanistan Campaign Medal, and more. After four years of faithful service, he retired from the military and now resides in Naugatuck, CT with his family.
Premier Auto Group President Bob Alvine was focused on dedicating his auto group's latest giveaway to veterans in acknowledgement of our nation's most cherished individuals. Bob and his team have taken great pride in being able to help Roger as he transitions to civilian life.
The MWSF is a 15-year-old 501(c)(3) non-profit charity founded by Retired LTG Leroy Sisco, with a mission of providing crucial transitional support for our nation's combat-wounded heroes, Gold Star spouses, and their families. Its programs focus on transportation assistance, housing and homeownership, recreational activities, and leadership development. The Foundation is on its way to awarding more than 145 payment-free vehicles and 1,000 mortgage-free homes across all 50 states. Premier Auto Group Subaru joined forces with MWSF for the giveaway, with the Foundation selecting the deserving recipients through their application program and Premier Auto Group donating the brand-new vehicles. 
The Veteran's Day giveaway supports Subaru's nationwide corporate commitment to giving back. Connecticut's Premier Auto Group is proud to have dedicated its 2022 Veteran's Day to such a worthy cause and honoring this local hero with the gift of safe, reliable transportation. 
May 26, 2021-Premier Subaru Watertown Donates $20,775 to the Connecticut Cancer Foundation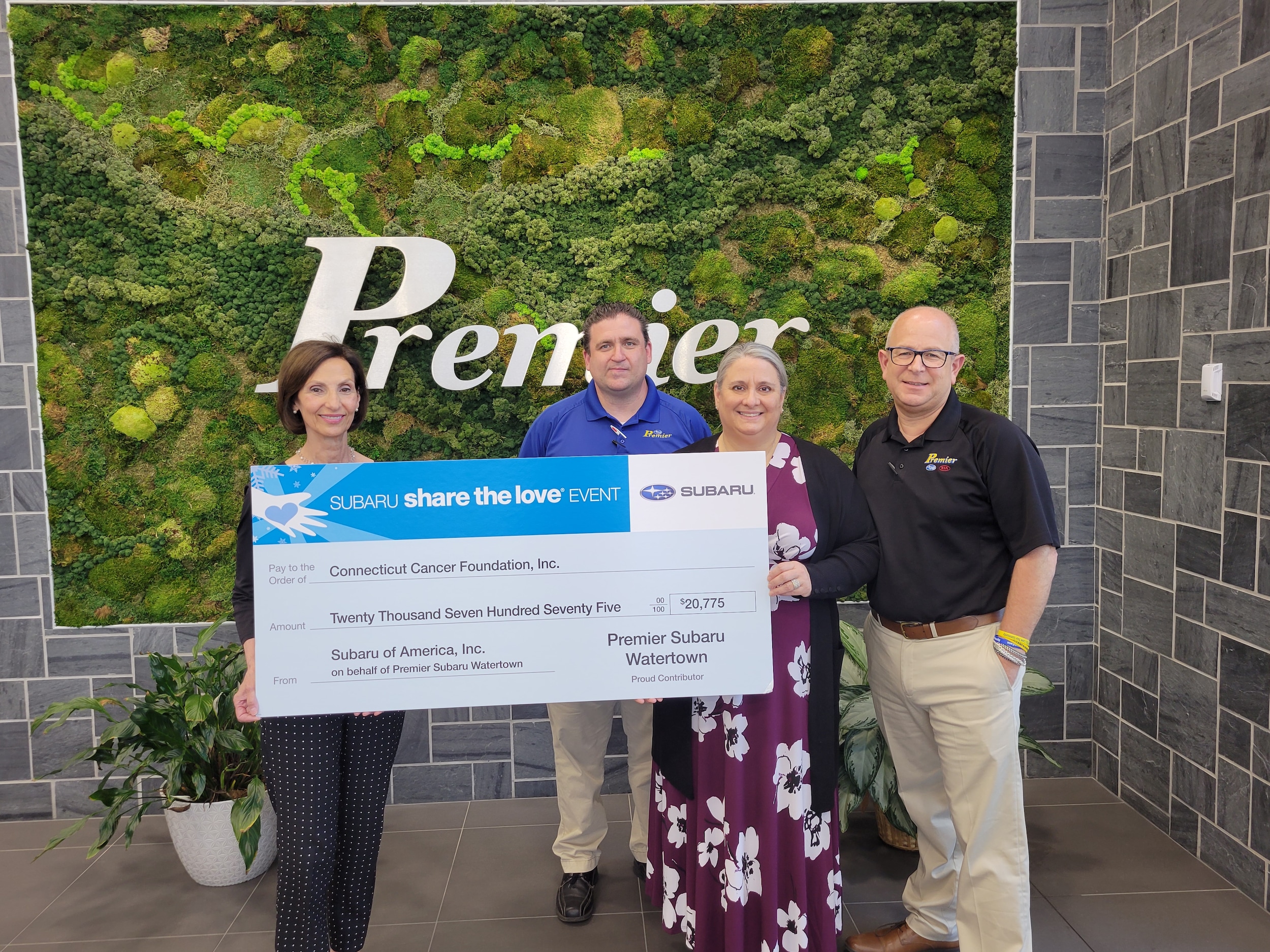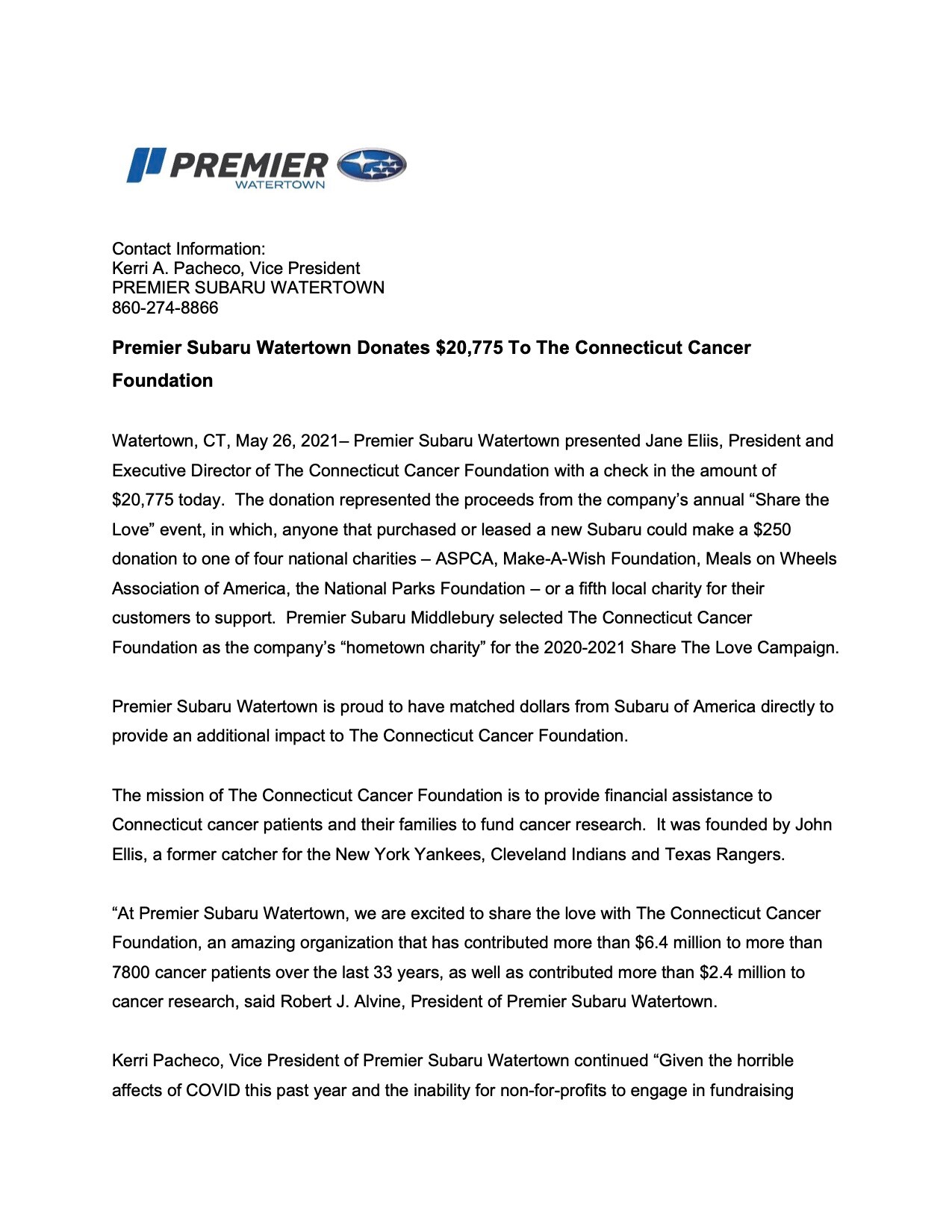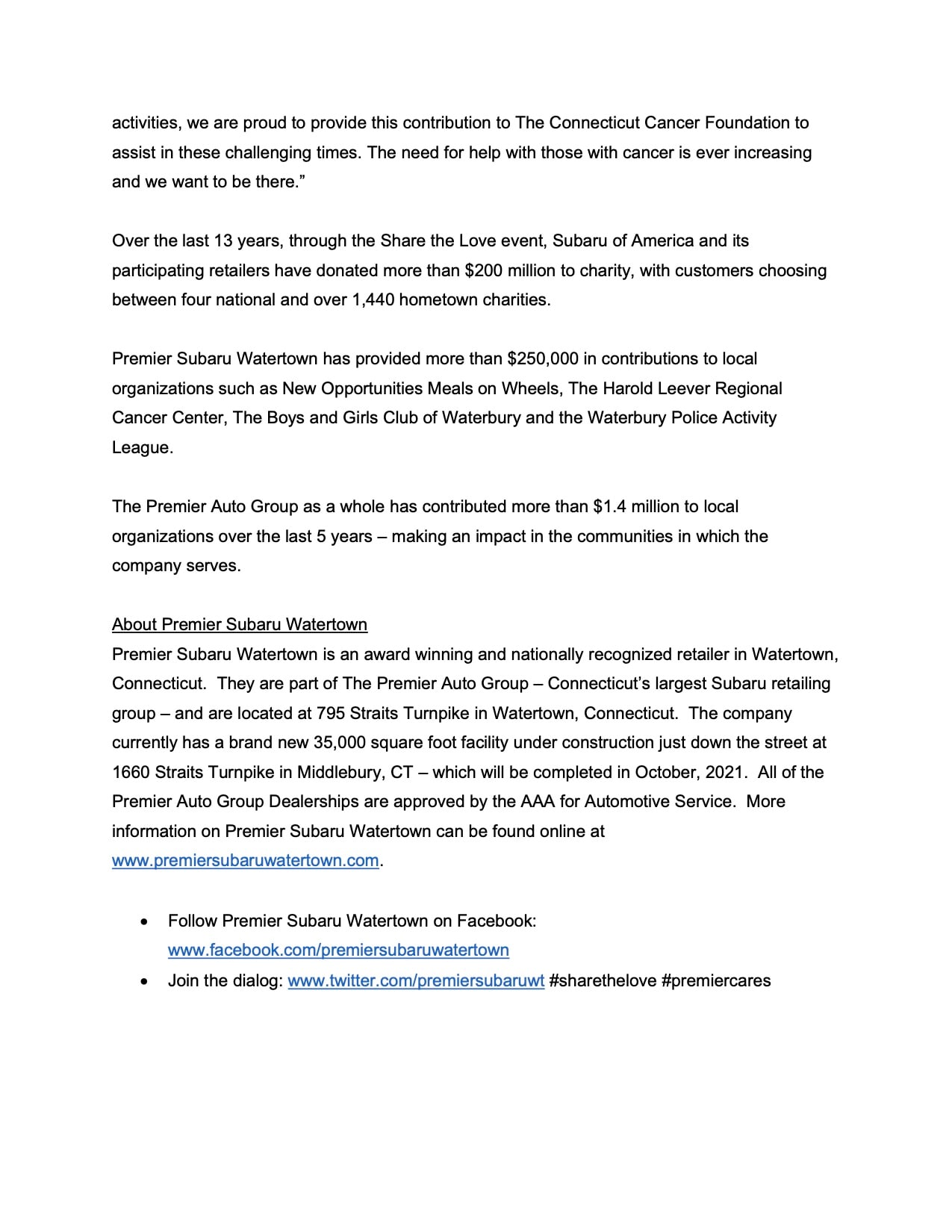 PREMIER SUBARU MIDDLEBURY TO PARTICIPATE IN 2020 SUBARU SHARE THE LOVE® EVENT AND SELECTS THE CONNECTICUT CANCER FOUNDATION AS HOMETOWN CHARITY.
November 19, 2020
- Premier Subaru Middlebury of Middelbury, CT today
announced its participation in the 2020 Subaru Share the Love® Event and selected The
Connecticut Cancer Foundation as their hometown charity to be added to the list of
organizations that customers can select to receive a Subaru Share the Love Event donation.
The Subaru Share the Love Event will run from November 19, 2020 to January 4, 2021 and
allows Subaru retailers the opportunity to select charities operating in their community to be
included in a list of organizations that new owners can select from to receive a $250 donation
from Subaru of America, Inc. (SOA). For a fifth year in a row, there will be no cap on the total
donation from SOA to its Subaru Share the Love Event charitable partners. At the culmination of
this year, SOA and its retailers hope to exceed a grand total of $200 million donated since the
creation of the Subaru Share the Love Event. The thirteenth-annual Subaru Share the Love Event will include the following four national charities:
• The American Society for the Prevention of Cruelty to Animals® (ASPCA®)
• Make-A-Wish®
• Meals on Wheels America
• National Park Foundation
In addition to the national charities that are participating, The Connecticut Cancer Foundation
will be included as a hometown charity for new Subaru owners to receive donations at the end
of the event. For the last seven years. Premier Subaru Middelbury has provided more than
$200,000 in funds to local organization such as New Opportunities Meals on Wheels, the Harold
Leever Regional Cancer Center, The Boys and Girls Club of Watertown and the Waterbury
Police Activity League.
"At Premier Subaru Middlebury, we are excited to share the love with not only the national
charities, but also with The Connecticut Cancer Foundation, an amazing organization that has
contributed more than $6.4 million to more than 7800 cancer patients over the last 33 years,
more than $2.4 million to cancer research. Given the horrible affects that COVID have had on
the fundraising activities of non-for-profits, we want this year to be our most impactful ever" said
Robert J Alvine, President of Premier Subaru Middlebury in Middlebury, CT.
About Premier Subaru Middlebury:
Premier Subaru Middlebury is an award winning and nationally recognized Subaru retailer in
Watertown, CT. They are part of the Premier Auto Group - Connecticut's largest Subaru
retailing group - and, are located at 1660 Straits Turnpike in Middlebury, CT. The company is
currently has a brand new 35,000 square foot facility now open for Subaru sales and Subaru Service. All of the Premier Auto Group dealerships are approved by the AAA for Automotive Service. More
information on Premier Subaru can be found at
www.premiersubarumiddlebury.com
.

About The Connecticut Cancer Foundation:
The mission of The Connecticut Cancer Foundation is to provide financial assistance to
Connecticut cancer patients and their families and to fund cancer research. It was founded by
John Ellis, a former catcher for the New York Yankees, Cleveland Indians and Texas Rangers
in 1987. More information about The Connecticut Cancer Foundation can be found on their
website at
www.ctcancerfoundation.org
.
▪ Follow Subaru on Facebook:
www.facebook.com/premiersubarum
iddlebury
▪ Join the dialog:
www.twitter.com/premiersubaruwt
#sharethelove # premiercares